Welcome to Our Website. You are able to book Online Your Room!!!
---
Special Offer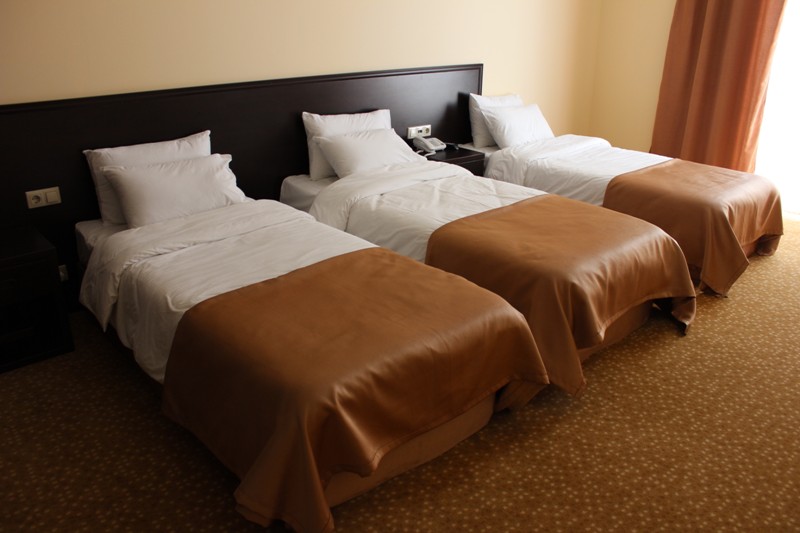 Hotel Facilities
Hotel Accommodation
Sanatorium Medical Service
Semi-radon Bath facilities
Balneotherapy
Medical Spa treatment
Conference hall for 70/90/120/350 p.
up to 15 meeting/training rooms
Concert hall for 350 peoples
Restaurant for 350 peoples
16 acres of park & woodland
bicycles & atv
Bar & Karaoke
Bar Museum "Never back in USSR"
National bread bakery
Winery and wine test
Wide range of tours
Transfers
Medical Treatment
The health resort Tskaltubo is famous for its mineral springs of warm Radon waters (natural temperature 33 -35 degrees). Since the 1940s the resort has been very popular throughout the Soviet Union for its healing properties. This unique water can cure the following:
Cardiovascular System disease
Locomotor System disorder
Nervous System disorder
Gynecological disorders
Skin & endocrine diseases
Disturbance of metabolism and others We are offering wide range of water procedures as well as physiotherapy and massage. Our qualified doctors prescribe individualized treatment for each visitor.
---

We rested in "Tskhaltubo Spa Resort" last year. The food was perfect as well as the
quality of the rooms and spa treatments. Water of Tskhaltubo is  really miraculous. We will come back.
Israel, Tel Aviv
The hotel grounds are fantastic. 16 hectares of park and forest. Wake up in the morning by birdsong. I want to mention highly qualified staff and high level of service. Tasty and versatile food. Water and treatments had a positive effect. We will visit "TSR" yearly to get rest and treatment.